Welcome to Creekside Community
This intentional living community will be a place of healing, comfort, and growth. It will feature a gathering center, gardens, permaculture areas, a park, and a playground. 
The units, all with inviting porches, will vary in size to meet the needs of the residents, ranging from studios in multiplex buildings to two-bedroom or three-bedroom dwelling units.
Creekside Center (a holistic health center) will be the hub of activity. A kitchen and large gathering area, a classroom, therapy and property management offices, an exercise room, and an art and crafts area all will create a welcoming environment for the neighbors to meet, socialize, and learn new skills. A boarding house is planned for the 2nd floor to house residents waiting for their home to be built.
The property is located next to Whiskey Creek in Brainerd, a town in central Minnesota, and close to the Mississippi River.  It is at the edge of town, surrounded by wildlife yet within walking distance to stores and services.   
Where are we at in the process?
Phase One fourplex is completed and our first residents moved in on Sept. 1, 2023.  
We have approval from our City Council to build the health center and boarding house, and a multi-family dwelling structure.
Creekside Center design plans are completed, and excavation and construction are expected to begin by Nov. 2023.
Supportive Friendship classes and our Life Skills and Employment Readiness Courses are being developed.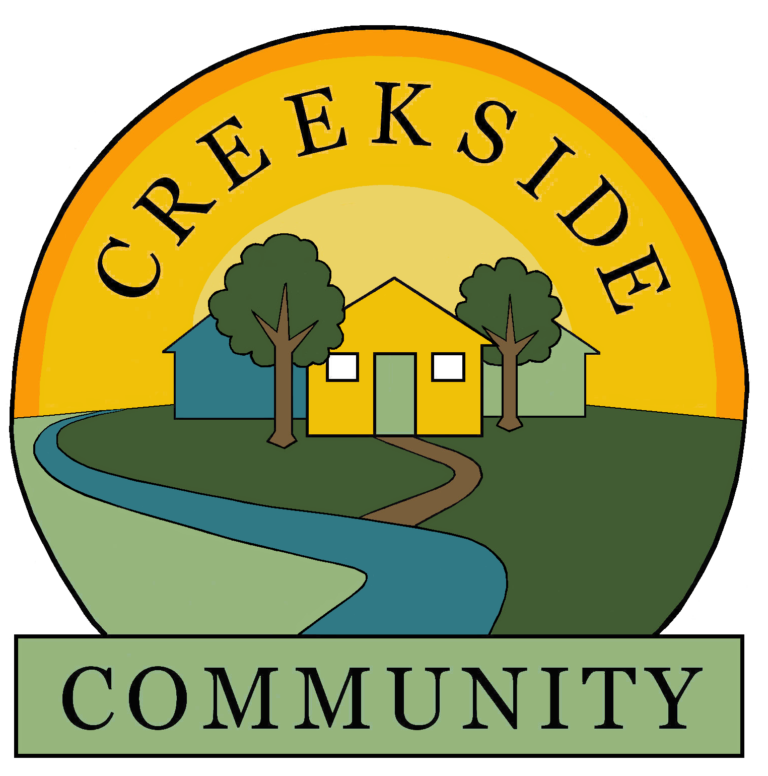 Help us build homes, build healthy lives, and build community!
We are raising the funds necessary to reach our goal of lifting people out of homelessness and into a safe, affordable home and onto a path toward self-sufficiency.  Every donation will be an important step toward making this community of caring a reality. 
Do you want to be part of the solution?  Please go to our Donate link!
Thank you! 
Phase One is a fourplex with studio dwelling units for one to two people.  While each unit is connected, they very much feel like individual homes.  
Plans for Phase Two include a holistic health center/community facility named Creekside Center. Creekside Center will be the hub of the neighborhood where health-related support services and classes will be held. Exercise and art rooms, therapy and management offices, a gathering area, and a classroom for employment preparation and other courses will all be a part of this structure.
The upper level of Creekside Center will contain a boarding house where potential residents will be able to live while waiting for their home to be built. The opportunity to live in the boarding house will benefit residents by allowing them time to attend onsite classes, secure employment or a source of income, and learn about living in an intentional community.
Phase Two will also include a multi-family dwelling structure which will contain 8 studio units, two 2-bedroom units and two 3-bedroom units providing housing for 18 to 36 people. It will also have a laundry room and storage area. The grounds will be landscaped with permaculture and food forest goals in mind and include a community garden, park, and playground.
Phase Three will complete the block of development with another 12-plex building, ultimately providing permanent housing for between 40 to 80 residents when all three phases are complete. (Plans for Phase Four and home-ownership options are being explored.)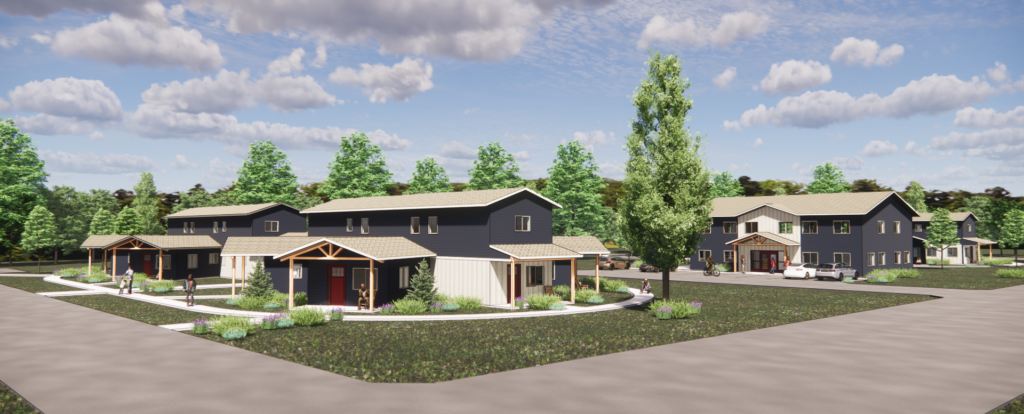 What a happy day it was to finally be able to move our first residents into their new homes!  It ended over 30 years of combined homelessness.   We still need to raise funds to pay the last of the construction costs – so please help if you are able.   Here's a peek at the interiors…